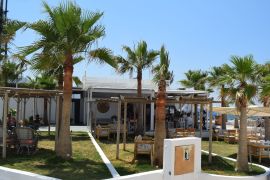 Thalassa Beach Bar / Restaurant located directed at the end of Beach road. Sitting here, you can see Malia and Stalis beaches. Top class food and drinks with high trained chefs to make you experience by the Malia sea unforgettable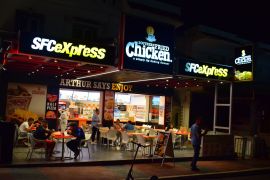 SFC Express ~ Southern Fried Chicken ~ Lip Licking Flavour ~ We are the best take away chicken in Malia, find us on Beach Road.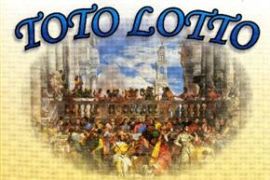 Toto Lotto, a traditional family run greek restaurant in Malia's old village. Well worth a visit, the food is fantastic, the staff are great. Situated next to the church in the old village in Malia. Toto lotto is decorated in items from all over the world, including a rather unique north american Indian.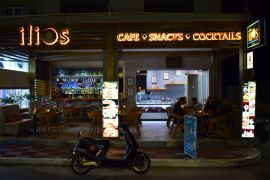 Ilios cafe is centrally located on the main Beach Road, between the Ilios Hotels and the Beach. Over the last 20 years we have served many thousands of customers, our experienced staff can serve you with sensational ice creams, a wide variety of coffee's and fresh delicious croissants.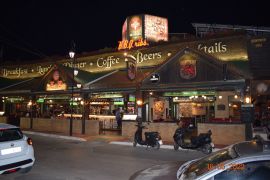 We are now the biggest Bar & Restaurant on the Beach Road. We are located one minutes walk from the beach. We serve food all day from 9:00 till Late. You can enjoy traditional British food here, come early because we are always packed.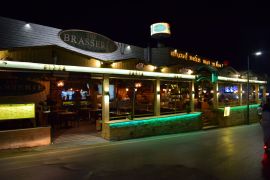 The Brasserie is located at the lower crossroads of Beach Road, next to Hermes. We run a Greek kitchen with international flavours of both Greek and European tastes. If you are planning a nice meal or a night out we are without doubt the place to visit. We hope to see you soon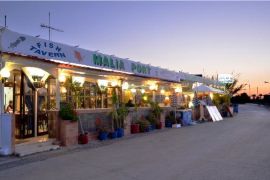 Malia Port Taverna - Sit and eat with the best views of the old and new port. Near the tiny Church. The staff are friendly, and you can sit inside or outside. Nice food, and great drinks, a lovely place to watch the sun set.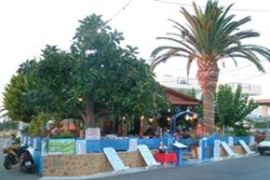 Eva a family restaurant, with home made food, located just far enough away from Malia's hustle & bustle to be peaceful, but close enough to walk to. With a wide selection of international and Greek food, we are the place to try Greek food without the commercial influence.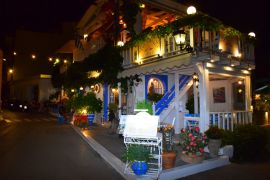 San Giorgios is located in the old village divided into two buildings on either side of the lane, both have an up and down stairs. Well worth a visit, with traditional greek fire, dancing and plate smashing most nights. Nice staff and very good food.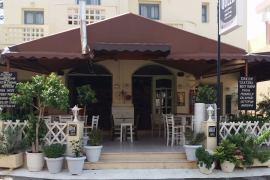 Queen cafe is a breath of fresh air in Malia. A clean stylish cafe, located just of the main road. Ideal if you are on the way to the beach or for a great meal before a big night out. The food is fantastic, with experanced chef and waitress staff. Come and join Sarah and Vangelis in Malia's classy and newest Cafe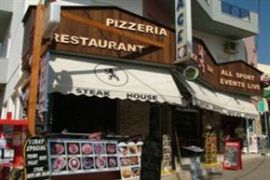 Mirage Restaurant can be found in the old village opposite 4 Seasons Hotel, its a really nice place with good wholesome food, this family run business will make you welcome from early in the morning until late at night. We have all the New Films on DVD and you can watch them whilst eating your meal.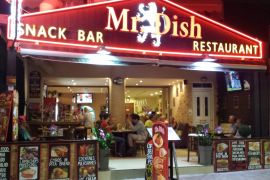 Mr Dish is an existing restaurant with a new name and new look. Remember DR, well now it is Mr Dish, still serving the most amazing food. Check out Mr Dish not only for the food but for the fantastic staff as well, who will ensure you have a lovely meal.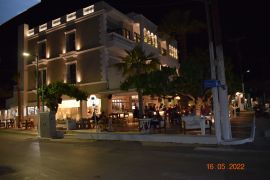 A lovely relaxing place to enjoy a refreshing drink or coffee while watching the world go by.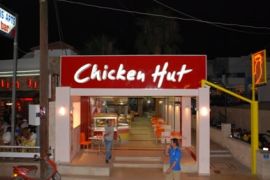 Chicken Hut Malia - Best Chicken in Malia - in the middle of Malia. We have various menu options for our chicken dishes. We are open until very late. Opposite the help bar, we are easy to find. Eat our chicken at night and feel better in the morning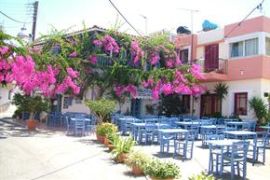 Odas Taverna located in the old village, we are a truely traditional taverna, with a lovely decorarated building, with traditional wooden tables and chairs, just like a Taverna should be. We have a great traditional menu, and real Greek chefs.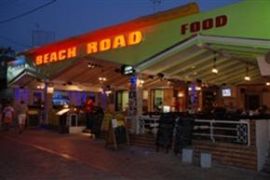 Beach Road Bar Malia offers something for everyone. Take the best bits from all the clubs and bars in Malia, Put them in one place. What do you get?...... "Beach Road Bar"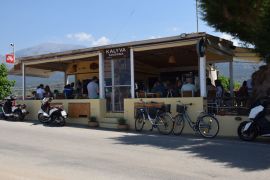 Kalyva taverna is a little restaurant situated on Potamos Beach a huge expanse of sand on the outskirts of Malia on the road towards the Malia Archaeological Site, this lovely taverna services wonderful Greek dishes along with cool drinks and perfect views over the sea and the mountains.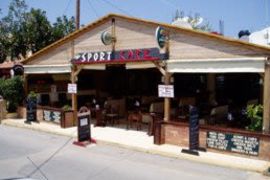 Watch all the sports live on 3 big TV's whilst enjoying wonderful food - fresh Baguettes, Meals, Grills & breakfast served all day with Good Music and atmosphere, 2 mins walk from Malia main road.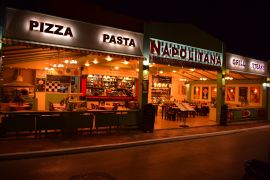 The Napolitana is situated on Beach Road, close to Zig Zags. We are the place to eat if you would like to try the real taste of Italian food while in Malia. We have friendly staff and a great chef. Come and see us soon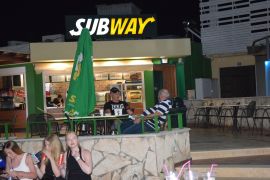 Situated in the centre of Malia, next to Apollo.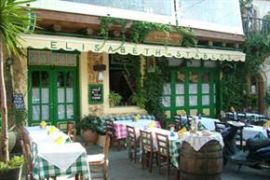 Elisabeth and Stablos Greek Restaurant is in the perfect location right in the heart of Malia Old Village. This lovely restaurant has it all - traditional food served from early evening, amazing service and the atmosphere is fantastic.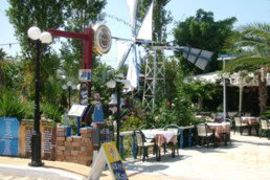 The Cretan Family Taverna is a lovely place to have a meal or a drink, situated on the road between McDonald's cross roads and Tropical beach. At the restaurant we serve the most finest traditional Greek dishes of the region. Each evening during the holiday season our restaurant is open and is filled with many people who have already found us.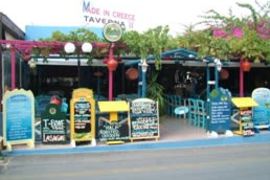 Made In Greece is a cool Taverna on the Stalis Road. Turn towards Stalis at the main cross road on Beach Road. It is just a few 100 meter walk. Once here you can enjoy our very full tasty menue whilst sitting and watching the world go by.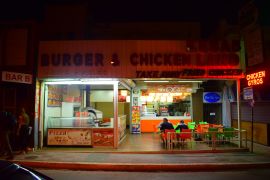 Burgerland is in the middle of club land, and is easy to get to after a hard night clubbing. Come and see Manos and have some nice FAST FAST food. We can be found opposite the Exodus Club, with seats for everybody.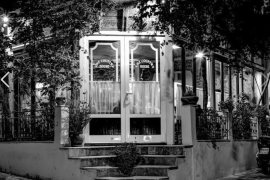 A wonderful taverna in Malia old dishes which serves traditional Cretan dishes with a twist. The food is amazing, the atmosphere brilliant and the service second to none.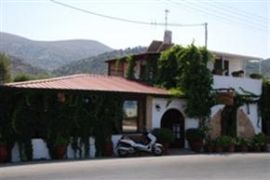 Kreta Taverna is located on Malia main road just a few meters out of the town. A very good place to try REAL Greek food and come highly recommended by the local Greek community. Very good food & setting with amazing veiws over the mountains & coast.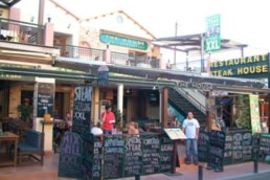 The House, Steak House Malia. We offer every steak with the best service in Malia. With seats both up stairs and down, you have the chance to sit and eat with some nice views of the mountains. Very nice staff, and great food - come and see us this year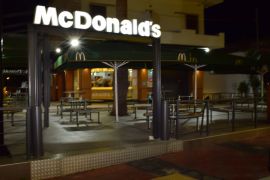 McDonald's franchise fast food restaurant.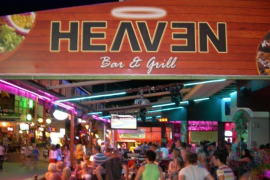 Heaven is a huge Bar and Grill towards the top of the Strip diagonally opposite Spar. What food do we do?? If you can grill it we serve it; Steaks, Chops, Burgers or why not have them all in one of our huge mixed grills.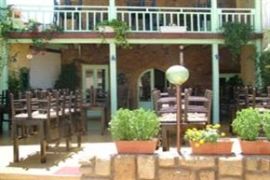 Enjoy the Greek and International cuisine in a beautiful atmosphere. We will give you the opportunity to enjoy delicate meditteranean tastes in an old stone family house. For about 20 years quality has been our number one priority.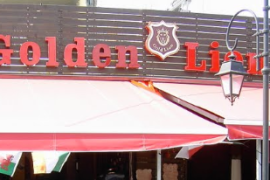 The Golden Lion is located near to the Spar Supermarket, just like an English pub, with very similar decoration, it serves food all day, whether you want breakfast, lunch, dinner or just a snack, then the Golden Lion will be able to help you.. Dont forget to try the Sunday Roast.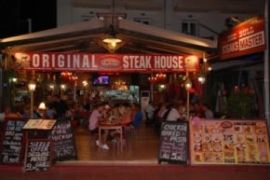 The Bull Restaurant is the Steak Master of Malia, in fact, not just of Malia of the whole of Crete.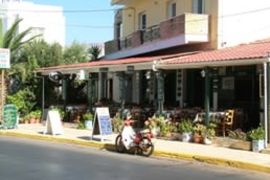 Harakas Taverna can be found on El.Venizelou St, the main road that runs through Malia towards Sissi, it is the last taverna on the right hand side before leaving Malia.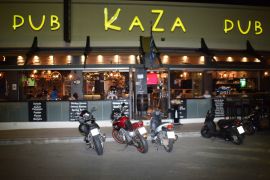 Kaza Pub cannot be missed it is huge! this pub is a sports bar, diner, cafe and pub all rolled into one. A really lovely place to eat from breakfast right through to dinner, or just to have a drink whilst watching the live sports, or having a game of pool.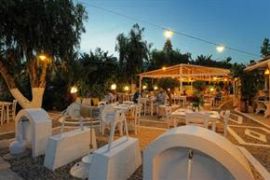 The Drossia Restaurant is a wonderful serene restaurant decorated to a high standard in a shabby chic style, the service is impeccable and the food amazing.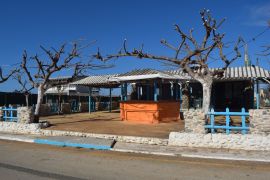 Welcome to the Coastline Taverna in Malia. We are located about 15 mins outside Malia's main main Beach Road. We are the idea place if you are looking to sample a traditional Greek Taverna in Malia. We are 5 mins walk from the beach.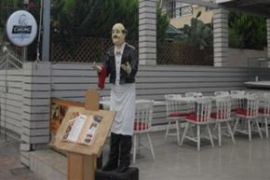 Lucky Strike American Diner is located at the top of the strip before the Union Jack but after you pass Spar, it has a huge frontage and serves Steaks, Burgers, Ribs etc.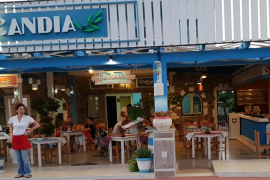 Candia Taverna can be found on Grammatikaki Street, in Malia, a beautiful family run Greek Taverna, serving traditional greek food.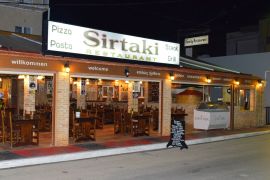 Sirtaki Restaurant is a Restaurant, Grill, Pizza, Pasta & Steak house and an absolute must on your visit to Malia. We have been in Malia since 1969, and have 40 years experience in tourism, people and our restaurant, you can find us in the centre of town just 3 mins walk from the beach.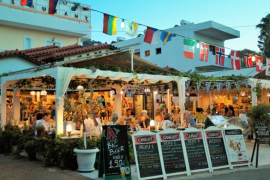 Camelot Restaurant, Malia. We are located on the border between Stalis and Malia and have one of the most amazing menus on the north coast of Crete. Nothing is too much trouble for us to make you stay with us an enjoyable one. See you soon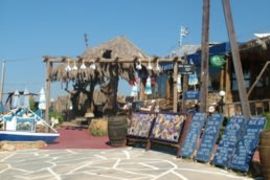 Blue Sea Taverna, is on the road between the town center and the old Malia Port. This is a top place to watch the sun set. There is nothing else like it in Malia - top food, top drinks, and a location on the coast that cant be beaten.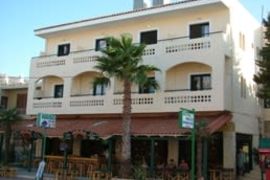 Welcome to the Argo Restaurtant located on the border between Malia and Stalis, we offer the more refined Greek Dishes. We have a beautiful restaurant located just a few mins walk from the sea. Here we have the best staff to make your stay perfect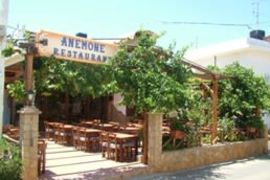 Excellent tavenra in the old village. Well worth a visit while in Malia. Very good food and recommended by many locals. Anemone offers Greek and International menu, with friendly staff and a nice location this is the perfect place to eat.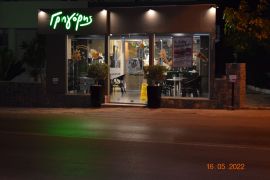 Gregory's is a great coffee chain in Greece with possible the best café of all of them in Malia. We have a wide range of drinks, cold and hot coffee and snakes with seating inside and outside site. We have some unique seats in our garden, come and check them out with a coffee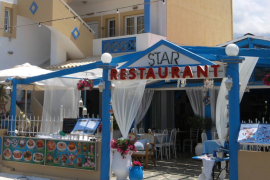 Choose from various types of breakfast, tasty lunches and delicious dinners, the atmosphere within the taverna is of a Cretan family's friendly hospitality and is decorated in a typical Greek style.
Petrino's Inn is a restaurant which can be found in Malia Old Village,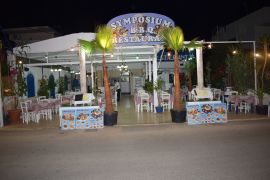 The Symposium Restaurant Taverna is situated on the beach road between Malia and Stalis, near to the McDonalds cross roads. This lovely taverna serves a wide variety of Greek dishes, all cooked to perfection.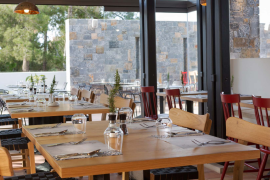 The Kalypso Taverna can be found on Grammatikaki St, the road that runs from Malia to Stalis parallel to the beach. This atmospheric taverna serves traditionally cooked Cretan food, that is a delight to eat.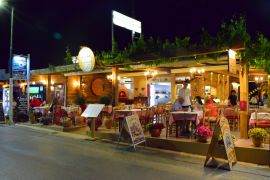 Sofra Family Restaurant, a great location with amazing food. Sofra has a traditional feel, with amazing tasty and well presented food, this is a taverna you must not miss on your visit or Malia or Stalis. We have high quality chefs and lots of tables to sit and eat. You can be outside or in the shade. We have a safe child play area at the rear of our restaurant.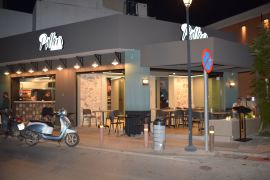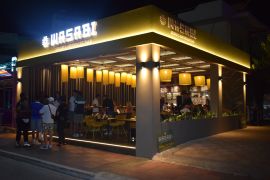 Wasabi is the latest high class restaurant in Malia. The Restaurant, the food the staff are a class offering to Malia. The food is delicious, with take away and eat in options. You will be welcomed by our beautiful front of house staff who can help you with the menu. We are a super healthy option for a oriental meal in the sunshine of Crete.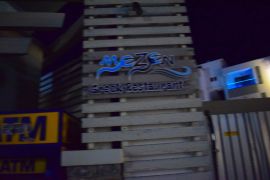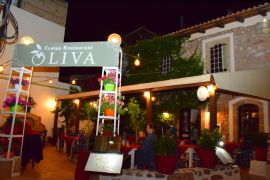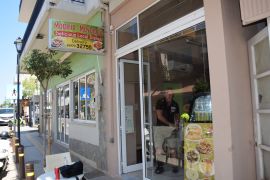 Great Food, Great Location and fantastic staff. If you want to try great local food without the wait of a traditional taverna, we are the place for you. We also do Local Deliveries to hotels and houses. Come and check our menu, we re opposite "Telis Phone Repair" shop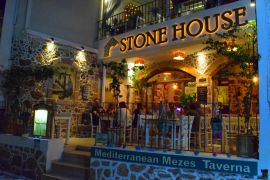 The Stone Hose Taverna is located at the entrance to the old village. A perfect location to find tradition food and helpful staff. Serving Mediterranean mezes style dished as well as tradition Greek food. With a roof garden overlooking the main church of Malia and great staff this is a must for your holiday this year.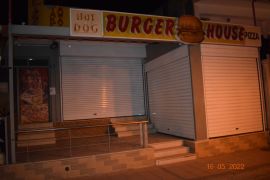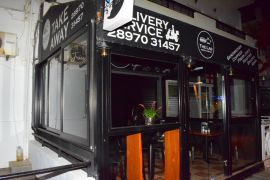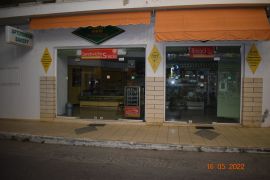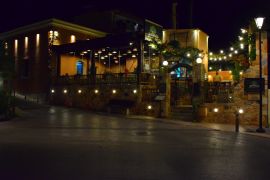 Geitonia Traditional Taverna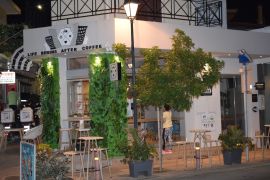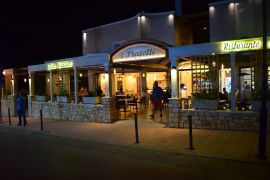 i Fratelli Italian Restaurant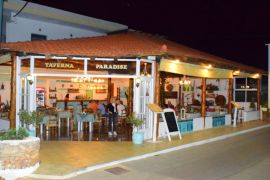 Paradise Cafe:- We are located on the Road between Stalis and Malia, we are bout 7-8 mins walk from the Malia Cross Roads. We have a very nice cafe decorated with the flags of Europe. We have a nice bar, and great menu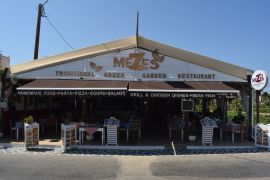 Come and sit in the Mezes Garden and eat the best food in Malia. We are a Traditional Greek Garden Restaurant with some of the bets food in Malia.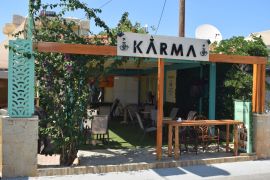 We are located just outside the main part of Malia, just 3 or 4 mins walk away from the Malia cross roads. Come and have a drink with us and watch the world walk by. We have some inspiration quotes for you on our walls as decoration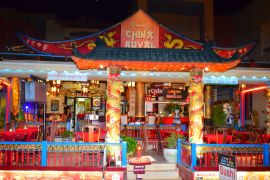 China Royal is a top Chinese restaurant in Malia with a twist. This Chinese restaurant also has a full Indian Menu as well. At China Royal we call this a 'chindian', where one can eat Chinese and your friend or partner can eat Indian. If you feel adventurous you can have a half Chinese and half Indian dinner with us. It is like a food cocktail and food contentment mash up. Come for a 'Chindian', we are the best in town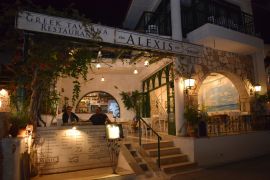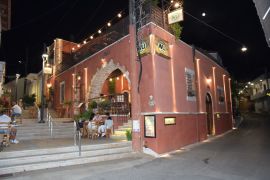 Avli Taverna is located in the central part of Malia tucked behind Sugar. Open in the early evening this is a quite spot to sample traditional Greek food. Well worth a visit and comes with a GreeceMonkey recommendation. See you soon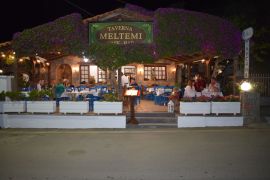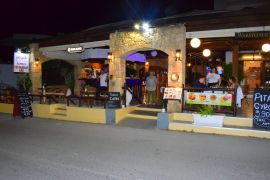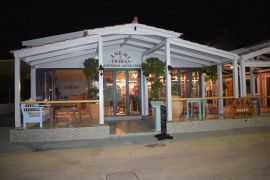 We are Anemi Taverna, we have a large Taverna with seats inside and outside. With a traditional menu and experienced chef, we offer a great night out. People come here for dinner and end up staying the whole night.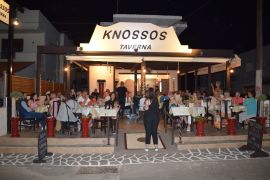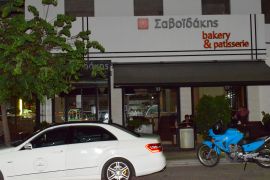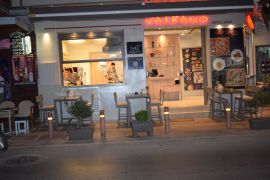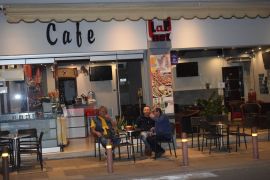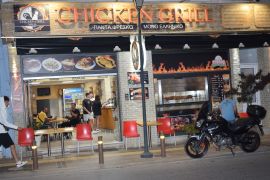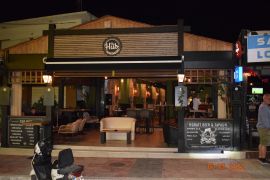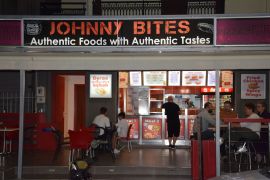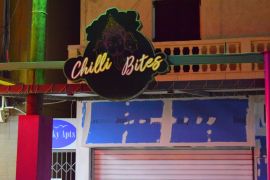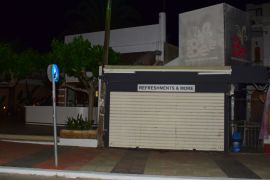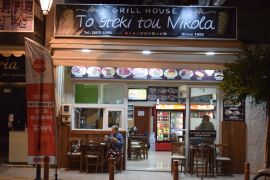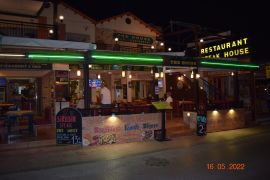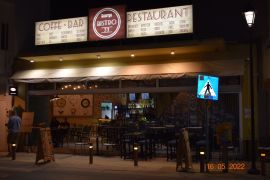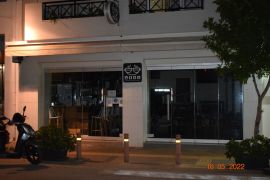 Kosta Kosta. The perfect blend of Coffee for any time of day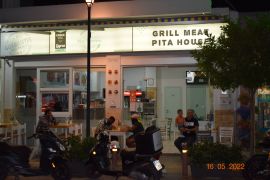 The No Name Grill Meat Pita House, is very popular with all the locals and the tourists. Open until very late, so drop in on the way out or the way home for the nights out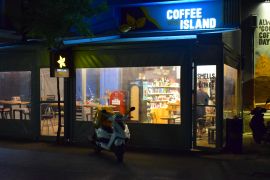 Coffee Island - One of the main coffee shops in Malia. Fun staff, great atmosphere and music and most of all great Coffee. We have many different blends of coffee and many snacks and Ice Cream. We are easy to find, we are the centre Malia. Come and find us and find great coffee