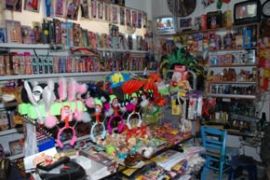 Apogakis is located behind between Galaxy and Altino Travel. It is easy to find. We are opposite Malia Holidays hotel. Come and see us for all your fancy dress requirements and Adult Products. We are easy to find - click on this link and then click of shop to see a picture of our shop.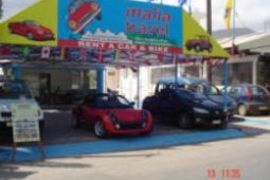 We offer a full range of Excursions, Vehicle Hire, Boat Trips, Money Exchange and Hotel booking services. Our shop in located just 2 mins walk from Malia main road. We have many discounted prices that will suite all budgets.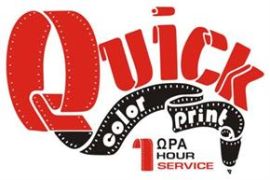 Quick Color Photo, Malia's leading photo development company. Offering a super fast and high quality development service from film or any type of Memory Card. We also offer a range of other services including printing on various items including mugs and mouse mats. All our staff are fully trained and can assist you with any technical questions you may have.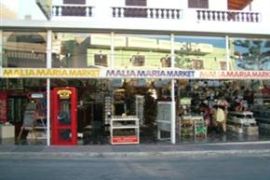 Malia Maria Market can be found in the centre of Beach Road and is the largest gift shop in Malia, its huge and sells absoultely everything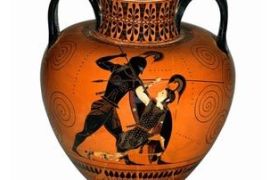 Pot & Art can be found on the main road leading out of Malia towards Stalis, you will find some amazing ceramics and terracotta pots, ideal for gifts for either your self or friends and relatives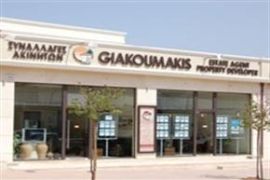 Giakoumakis Real Estate is one of the leading estate agents and property developers in Crete, offering a variety of services, ranging from residential and commercial real estate sales to construction of residential developments.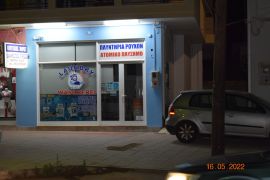 Easy to find, centrally located on Malia's main road, next to Galaxy Pub. We do a SAME day service if you bring you clothes before 4PM in the afternoon.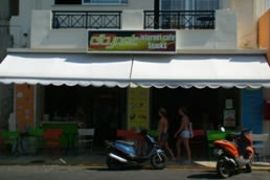 City Internet Cafe is located on the main road through Malia, it has many computers set up for internet use to enable you to stay in touch whilst you are away on holiday. The cafe serves food and drink to eat in or take away, a good place to sit and watch the hustle and bustle of the town centre.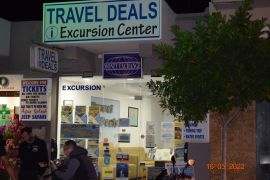 Travel Deals can be found on El.Venizelou Street in Malia. Very friendly owners and helpful service.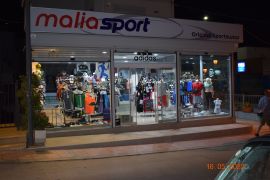 Malia Sport, the only Sports clothes and equipment shop in Malia, get all your named clothes including Nike, Reebok. Fila and Puma.
Lavrys Cermanics can be found on Grammatikaki Street, Malia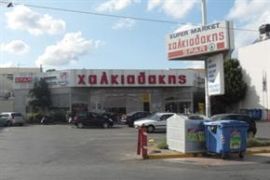 Spar Supermarket, can be found on Megalo Ryaki Street in Malia, You will not find any difficulty in pleasing your needs, since Halkiadakis offers a great variety in all the well-known products and especially in all the traditional goods of Crete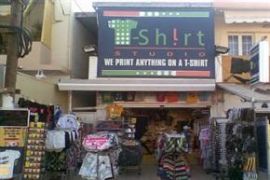 The T-Shirt Studio can be found on Dimokratias Street (Beach Road) towards the beach on the right hand side of the road.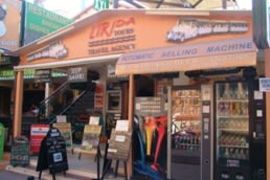 Lirida travel agency is situated on the left hand fork of Beach Road near the restaurants.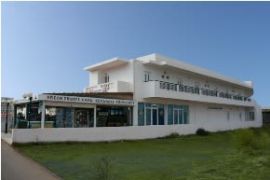 There are three Barrels Supermarkets in Malia two of which are on Emm.Tsagaraki St, the first one is close to the Mac Donald's Cross Roads, the other is further out past Malia Port.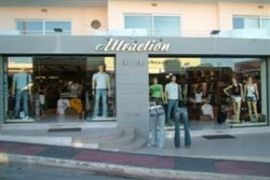 One of Malia's top fashion shops, located at the top end of Beach Road. This is definatly the place to go, if you left you best t-shirt at home. Both male and female sections of the shop offer the bets range of both Greek and internation fashion clothing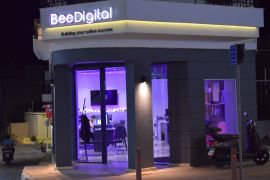 For all you online presence and website marketing requirements. We do full SEO, CMS and website consultancy. Come and see all our services, we can build your online success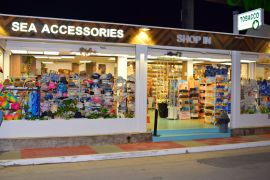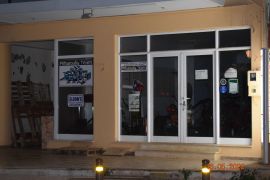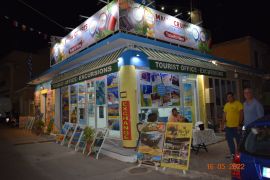 At Malia Cruises with have so much to show you and offer you for the perfect Crete Experience. We have offices in Malia and in Stalis. Try the "Olive Mill Fest", or trips to Spinaloga, Chrissi Island, Knossos and Samaria Gorge. We have daily Jeep Safari excursions so you can see Crete like never before.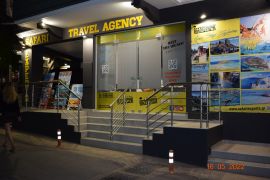 Safari Expert Travel Agency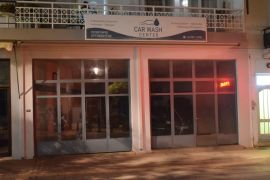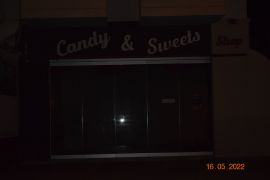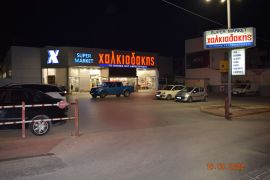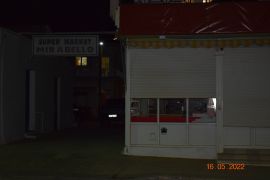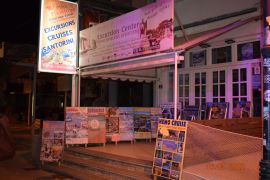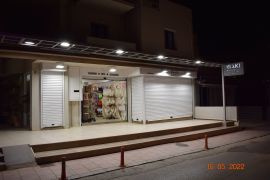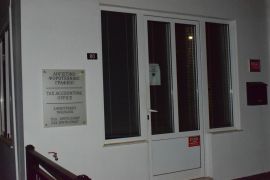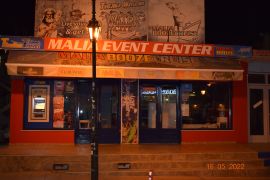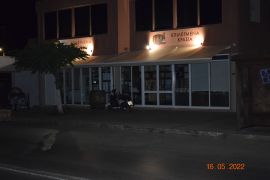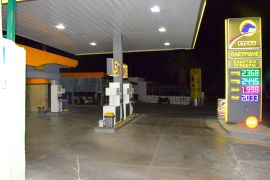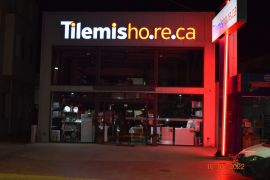 Tilemisho.re.ca is the main shop in town for selling house hold appliances. We have all the main white goods. If you moving to Malia, Stalis or Hersonissos. We have all you need from fridges, washing machines, microwaves. Come and check us out, we have the best prices in the area.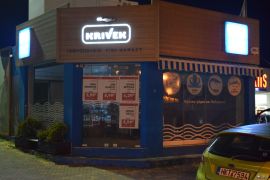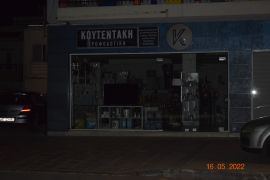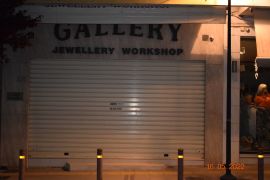 The Gallery Jewellery is one of the most establish Jewellery's in Malia and very popular with the locals. For all your holiday jewellery needs, come and see Kostas and the rest of the team at the Gallery Jewellery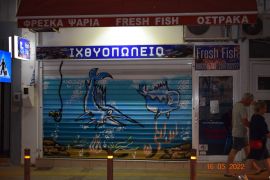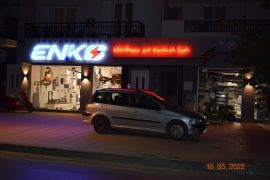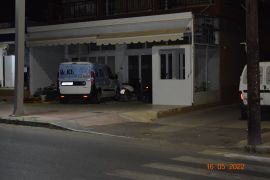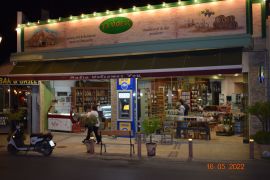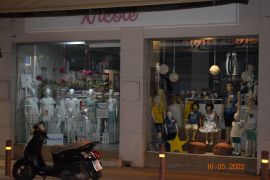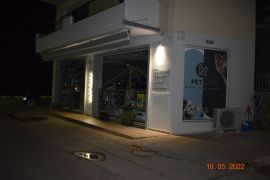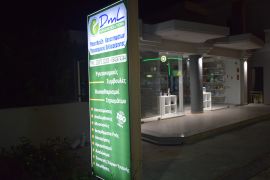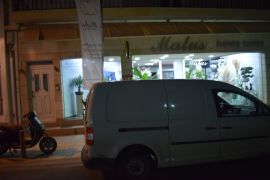 Malus flowers are the the go to shop for all your flower requirements. We do deliveries, wedding and all other reequipments. Come and find our shop, we are the best in town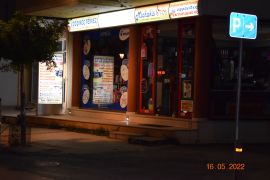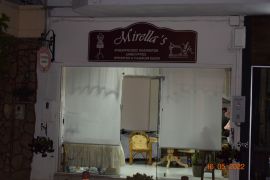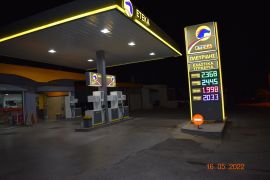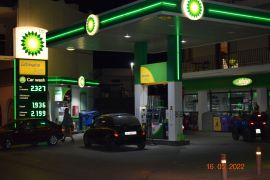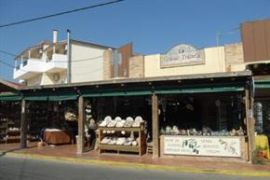 Greek Land is a very large shop which sells traditional Cretan and Greek products including Olive oil, Herbs, Sponges, Shells, Pottery, Ceramics.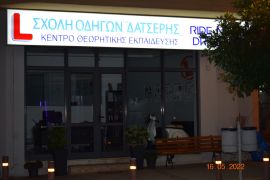 Ride 'n' Drive Driving School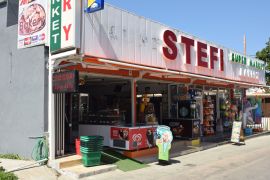 Stefii Super Market - Large supermarket - with lots to choose from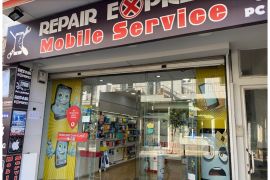 Telis Repair Express is the number 1 phone repair shop for Malia, Stalis and Hersonissos. We have many phone accessories for sale and repair all types of phone and tablets. What ever you have Samsung, Google or Apple, Table or Phone we can fix it. Broke Screen, no sound, so microphone or wont charge, we can fix it the same day. We also sell mobile WIFI routers. You can also pay your phone bill here. Come in and and see Kostas and Telis, we are the phone and table magicians.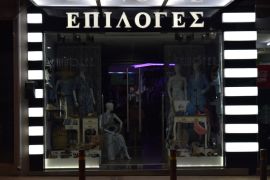 Επιλογεσ / Choices - Located on Malia's main road, we are easy to find.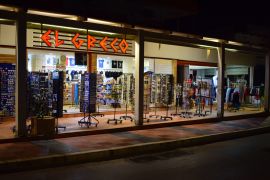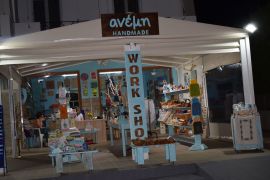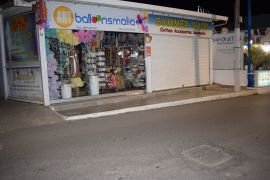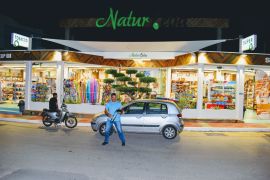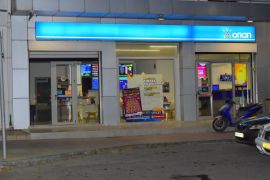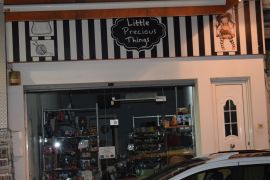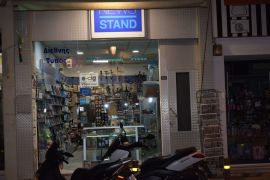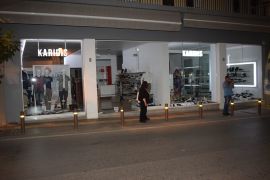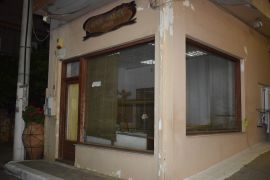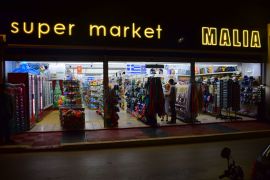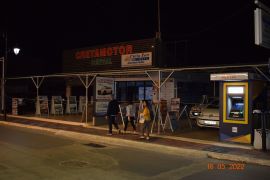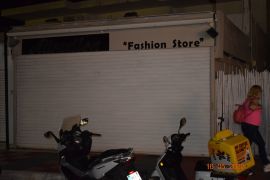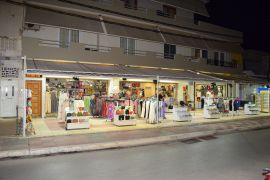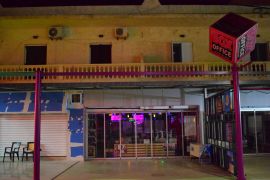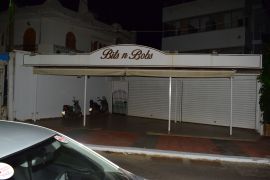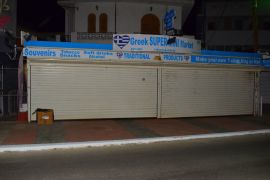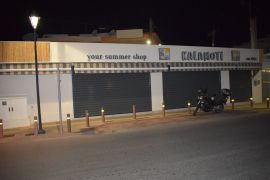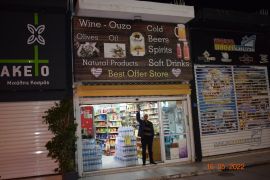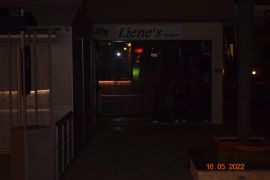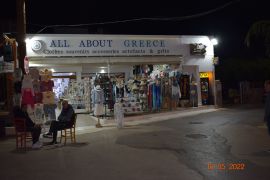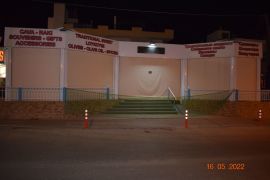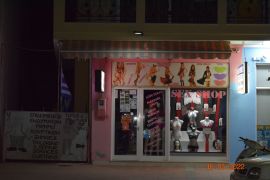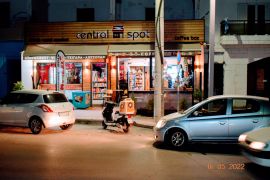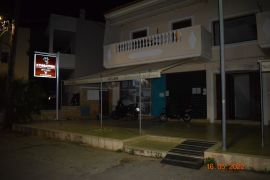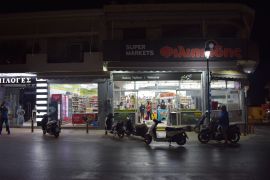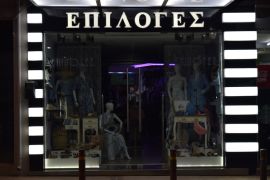 Artemis travel can be found on El.Venizelou Street, the main road through Malia.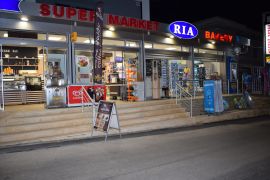 The Ria Supermarket is to the front of the Villa Ria Apartments, it stocks everything you will need for your self catering holiday from newspapers, magazines, cigarettes, phone cards, drinks, fresh fruits, bakery, sea accessories to money exchange.
Aquarius can be found on Beach Road, Malia, opposite McDonalds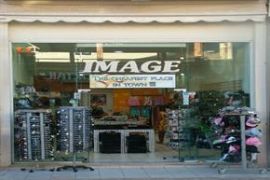 Image is an accessory shop which has probably the widest range of bags, purses and wallets in Malia, it also stocks hats, caps and a wide range of sunglasses. Located near the main junction on the strip, next door to Unique the tattoo place and opposite "Help" Bar.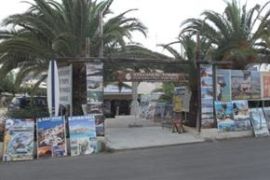 Stefanos tours is a local independent travel agency that offers excursion to see many wonderful things on the Island of Crete; coach trips, boat cruises, Jeep safari's, Cretan nights and Scuba Diving are all on offer from this local agency.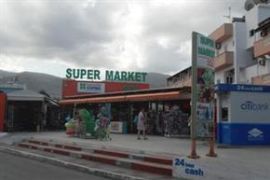 Sol Supermarket is either the First or the Last Store on Beach Road in Malia, it is the first shop you come too from the beach, available inside is a wide selection of food, drinks, cigarettes and gifts.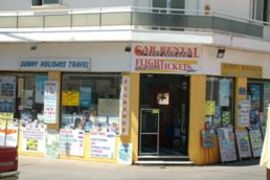 Sunny Holiday Travel is located in Malia Old Village, here you can book up everything tourism related from boat trips, excursions, coach trips, and find out all the details on what is available in the local area.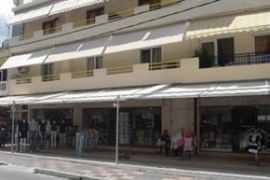 Trends Clothes Shop can be found on Dimokratias Street, it sells ladies and men's fashionable clothes and accessories, including jeans, T shirts, dresses, skirts tops etc. They also sell a lovely range of bags and sunglasses.
Angel Fashion can be found on Grammatikaki Street, Malia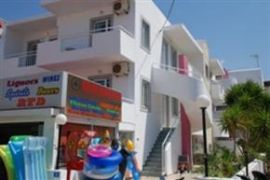 The Gemini Supermarket fronts the lovely Lu Ellen Apartments situated in Malia old village. Everything you need for an enjoyable stay in and around the Lu Ellen can be brought from Gemini.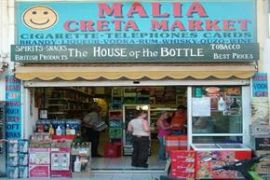 The Malia Creta Market is situated just off the crossroads in the centre of Malia opposite Help Bar. This lovely supermarket sells alcohol, cigarettes, food and soft drinks, so probably everything you will need for your holiday!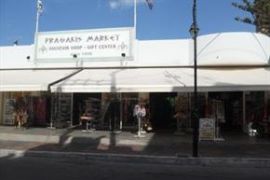 Fragakis is a large Souvenir shop and Gift Centre with a wide selection of items for your holiday including beach towels, beach games, flip flops and bags and it also holds a wide selection of mementos and gifts for you to take home to remind you of your holidays.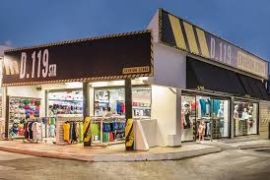 Diesel clothes shop can be found on Beach Road Malia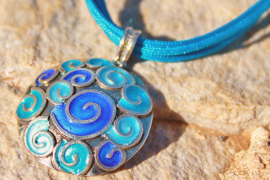 Art Daedalus a unique jewellery in Malia. In the old village opposite the Toto Loto restaurant. Check out the website to see the fantastic jewellery we offer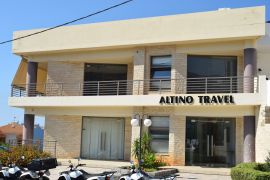 Altino travel is a full service travel agency based in Malia, Crete and handles both leisure and corporate travel with many speciality areas.
Sarris Jewellery can be found on Grammatikaki Street, near Zorbas Taverna