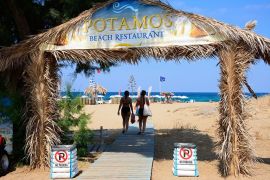 Potamos Beach Restaurant is the perfect location, for food and drinks all day long. We have top class chefs and seating at our restaurant as well as seating on the beach. Come and see Vangelis and Illas and the rest of the team in 2022. We are the perfect spot for lunch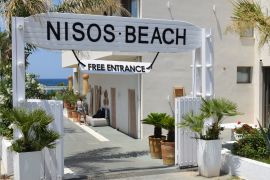 Nissos Beach is straight at the end of Beach Road, come and join us for a great beach experience. We have great music, drinks and food. We are opposite the Island, we have car parking. Nissos means Island in Greek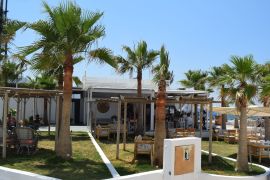 Thalassa Beach Bar / Restaurant located directed at the end of Beach road. Sitting here, you can see Malia and Stalis beaches. Top class food and drinks with high trained chefs to make you experience by the Malia sea unforgettable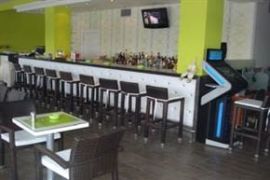 We are Malia's only sports facility offering a wide range of sports activities, We have Football, Fight club, Children's Play Area, Pool and Snooker and many arcade machines. We also have a very nice bar & an internet cafe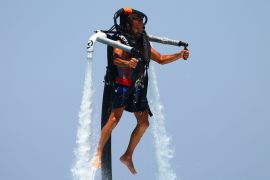 It is one of the oldest and most experienced operators of watersports of the Island, with a perfect safety record and it is all due to the dedication and commitment to our job. We offer a wide enough range of activities to suit most tastes.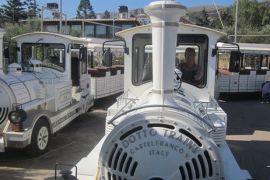 We are the famious Happy Train that gets people all over Malia. We have many trains with many seats for you to ride in. We travel all over Malia and Stalis and we have many stops, so you can go on a round trip or just one way.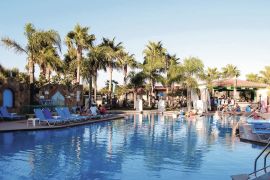 Oasis Pool Bar is set in an excellent location slap bang in the centre of malia. a fantastic pool, the biggest and the best in malia including a jaccuzi, has a superb atmosphere and is always busy! the excelent pool bar serves great food all day long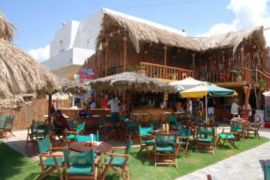 Dolphin Beach bar – Restaurant was the first Taverna on the central beach of Malia and was established in 1958. Nowadays Dolphin Beach bar is a unique seafront, Beach Bar - Restaurant which offers international and greek food.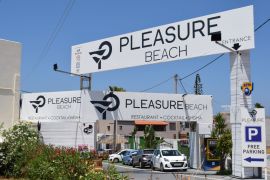 Pleasure Beach not only offers you the 3 x S's: sand, sunbeds and sea - We also have a swimming pool, table tennis, pool table, boxing machine, a large bar and we serve food.... On top of that we have brilliant music played by Malia's top club Dj's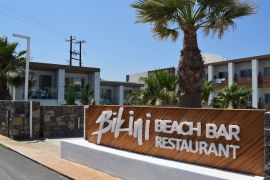 Bikini Beach Malia, We have everything you need, a pool, the beach, the sea, and a Beach Bar. The resident DJ plays the tunes. Opposite the famous Island. We are in Malia's most popular beach location.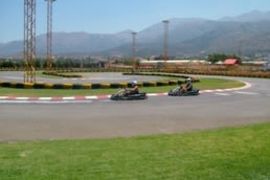 Kartland a good place for a right old burn up, thrils and spils. The Track is full of bends and turns, burn up your mates in Malia or Hersonissos. Reach speeds of 30MPH as you turn towards the Sea, and then back towards the Sky Coaster.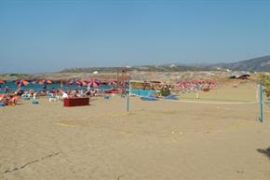 Potamos beach is situated just outside Malia on the road to the archeological site, it is a beautiful quiet beach with a vast expanse of sand.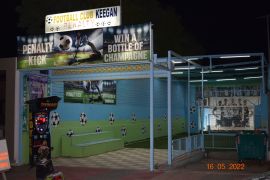 Malia's Mini Golf is located towards the bottom of Beach Road next to the Red Lion Restaurant. Situated mainly in the shade this little hive of activity is a good place to have some fun out of the sun.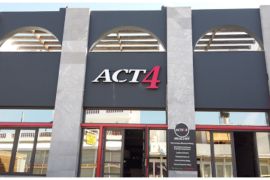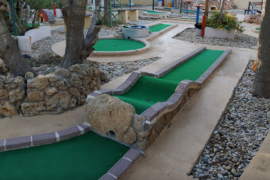 Bored with the Beach? Want to get out of the sun? Need something to do before going out? then the place to go is the Malia Crazy Golf its close to the Red Lion on Beach Road. A good place to have a laugh.